CTY Staffer Wins National Association for Gifted Children (NAGC) Award
News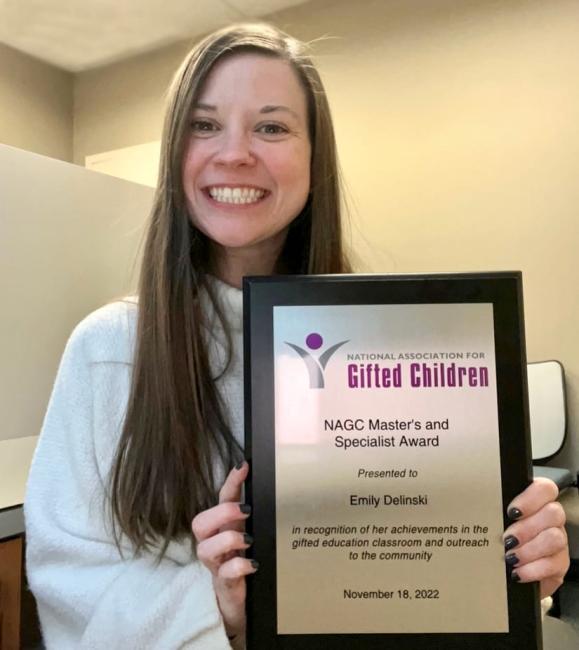 The National Association for Gifted Children (NAGC) recently awarded Emily Delinski, the Johns Hopkins Center for Talented Youth's (CTY) senior research program coordinator, with the 2022 Master's and Specialist Award. The NAGC presents this honor to individuals who demonstrate at least four of 12 qualifications, which include, but are not limited to, advocacy, community service in gifted education, facilitating the social and emotional development of gifted and talented students, participation in graduate student research colloquia, and teacher in-service/parent workshop.
 
"I was extremely surprised when I heard I won the award," Delinski said. "There are many outstanding colleagues in gifted education, and I am truly honored to have been considered—and even more honored to be selected as the winner."
As part of the application process, candidates submitted recommendation letters, a brief statement of goals related to research and/or practice activity in gifted and talented education, and any documents that showcases their work in gifted education. Delinski, who is also the recipient of the Johns Hopkins University School of Education Student Excellence Award in Gifted Education, shared her master's research, which focused on the identification and serving of underrepresented students in gifted education.
"Anyone who has worked with Emily knows how much she deserves this recognition," said CTY Executive Director Amy Shelton. "Her contributions to research and to the field more broadly have already been invaluable, even at this early stage in her career. I look forward to seeing her continue to leverage her passion and brilliance to impact the educational experiences of advanced learners."
Delinski looks forward to building on her award-winning portfolio of work, which demonstrates her passion for serving advanced learners. She plans to pursue a doctoral degree in education with a concentration on gifted education.