AT&T Contribution Helps CTY Scholars Program Improve Students' Digital Literacy
News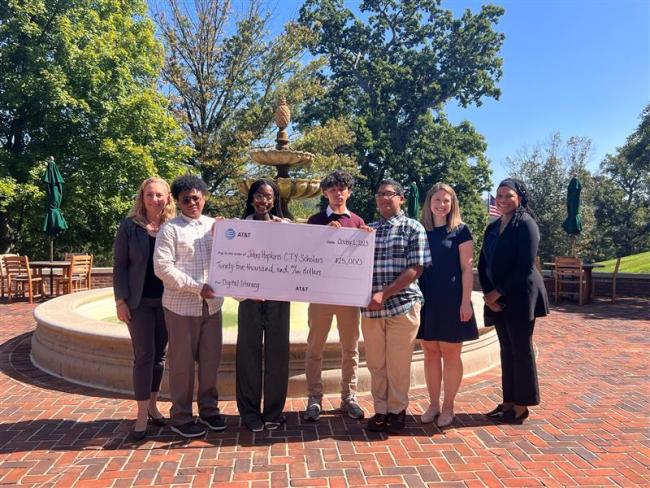 Photo by Patricia Schellenbach: AT&T-Maryland regional director of external affairs Katie McEvoy (second from right) presents a $25,000 contribution in support of the CTY Scholars Program to (from left) CTY executive director Amy Shelton; CTY Scholars Mohamed Elkhatib, Kayla Boateng, Axel Ramirez, and David Taveras; and CTY senior program manager Makaya Jackson.
The CTY Scholars Program, a scholarship and advising program for academically advanced high school students, has received a $25,000 contribution from AT&T.
The funds will provide CTY Scholars with digital-skills training in applications such as Microsoft Office, Zoom, and Google, along with access to other digital tools and resources available through the AT&T Connected Learning initiative.
"For more than 40 years, CTY has been helping to prepare the next generation of leaders," said Katie McEvoy, regional director of external affairs for AT&T-Maryland. "The programs offered at CTY have evolved to keep up with changes in technology. Our support will enable CTY to continue to adapt to the fast-changing digital landscape." 
Developed to help close the excellence gap among our nation's brightest students, the four-year CTY Scholars Program has prepared more than 700 low-income and underrepresented high school students for top-level achievement in college and in their careers. 
"The CTY Scholars Program is life-changing for our students," said Amy Lynne Shelton, PhD, executive director of the Johns Hopkins Center for Talented Youth.  "This generous grant from AT&T helps to support our efforts to educate and advise these academically advanced pre-college students so they can achieve their full potential as learners and global citizens in high school, college, and beyond."