About the Course
Dissent
Grades 7-11
Advanced CTY-Level

Residential
In 1963, "King of Soul" Sam Cooke was arrested for disturbing the peace after a white desk clerk refused to honor his motel reservation. Cooke later penned lyrics that became a civil rights anthem, and "A Change is Gonna Come" remains a voice of discontent and hope for the future. America has a long history of dissent, and this course examines its many forms, from Vietnam War-era demonstrations to the Dakota Access Pipeline protests, the fight for marriage equality, the writings of Ta-Nehisi Coates, and Kristen Visbal's statue "Fearless Girl." You'll explore how Americans have empowered change and expressed dissatisfaction, and how politicians, activists, and demonstrators have encouraged or suppressed outrage and action, from the Occupy movement to Donald Trump's "Make American Great Again" campaign. You and your classmates will study social commentary through art and political discourse to understand American voices, culture, and history. You'll practice literary analysis, write persuasive essays, and learn the theories behind social movements and protests. This course is recommended for students entering grades 9 or above.
Typical Class Size: 16
Summer Dates & Locations
Final registration deadline Session One:
Final registration deadline Session Two:
☀️ CTY Summer Fun Giveaway ☀️
Enroll in a 2022 On-Campus Summer course and you could win a free Online course—AND 50% off a 2023 On-Campus Summer course! Learn more.
Session One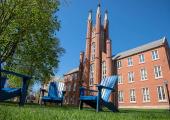 Testing and Prerequisites
| | Math | Verbal |
| --- | --- | --- |
| Required Level | Not required | Advanced CTY-Level |
Check your eligibility using existing test scores
If you do not have existing test scores:
Students must achieve qualifying scores on an advanced assessment to be eligible for CTY programs. If you don't have qualifying scores, you have several different testing options. We'll help you find the right option for your situation.
Sign up for Testing
Learn More
Cost and Financial Aid
Tuition

Application fee

Nonrefundable Application Fee - $50 (Waived for financial aid applicants)
Nonrefundable International Fee - $250 (outside US only)
Financial Aid is available
We are committed to serving all talented youth regardless of financial circumstances. Financial assistance is available based on need.
Course Materials
Students should bring basic school supplies like pens, notebooks, and folders to their summer program. You will be notified of any additional items needed before the course begins. All other materials will be provided by CTY.
 
Sample Reading
These titles have been featured in past sessions of the course, and may be included this summer. CTY provides students with all texts; no purchase is required.
Letter from a Birmingham Jail, Dr. Martin Luther King Jr.
Dissent in America: The History of an American Idea, Ralph F. Young
About History and Social Science at CTY
Enhance your critical thinking skills
Expand your ability to reason through difficult problems by taking one of our philosophy or logic classes. Learn how to craft strong and clear arguments in Big Questions, write proofs that avoid fallacious reasoning in Introduction to Logic, or explore the techniques of logic that lawyers, doctors, and mathematicians utilize to be successful in their fields in Logic: Principles of Reasoning.
Explore social justice in action
Develop knowledge and skills that will help you address issues of systemic inequality throughout the world. Learn about social movements that have created both positive and negative societal changes in Dissent. Challenge historical assumptions about gender to interrogate harmful stereotypes in Beyond the Binary.
Meet our instructors and staff